12 April: permanent closure of the Flags Car Park
From 12 April, the Flags Car Park will be permanently closed due to the start of work on the Esplanade des Particules*. This work will begin on 18 April and will last for a period of 16 months.
Drivers are invited to use the Globe Car Park as of 12 April.
The Flags Car Park must be clear of all vehicles  by 12 April at the latest.
Impact of the work on transport:
The Route de Meyrin will remain open (the traffic lanes will be diverted - see the plan below).
Public transport (bus Y and tram 18) will continue to operate as normal.
CERN's entrances will remain accessible.
CERN car sharing parking for 3 vehicules next to building 33 will be moved to the Globe parking (3 dedicated parking spaces).
The building 33 CERN shuttle bus stop will be moved to next to Entrance A.
Although everything possible will be done to reduce the inconvenience caused by the work, the flow of traffic between Entrance A and Entrance B could be affected.
Traffic diversion during the first phase, between 20 April and 28 July 2017.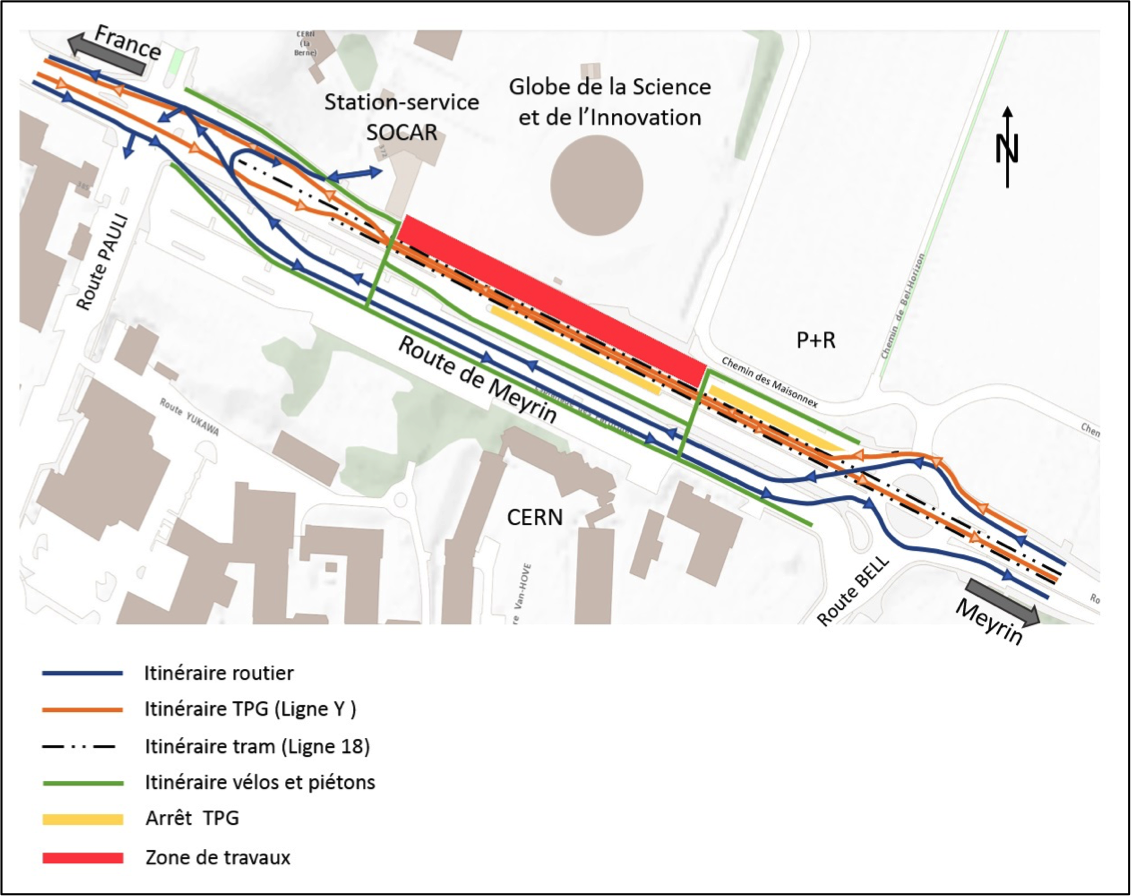 For more information about the progress of the work, visit the dedicated page about the Esplanade des Particules on the "CERN and its neighbours" website.
Thank you for your co-operation.
SMB Department
___________________________
*The Esplanade des Particules
The Esplanade des Particules is a public space comprising several key features:
The current Flags Car Park will be replaced by a pedestrianised area that will extend as far as the Globe.
A forest of national flags, symbolising CERN's international collaboration, will cross the Route de Meyrin to link CERN's main site with the Globe.
A large number of covered bike racks will be constructed.
The Route de Meyrin will continue to serve road traffic but the speed limit will be reduced to 50 km/h at the point where it crosses through the public space.