At the City of London School last week, an interdisciplinary programme brought artists, researchers and philosophers together with educators and students to discuss the intersection of art and science. In Unseen Dimensions: Dialogues in Art and Science creativity and discovery were explored through a series of talks and workshops.
"We wanted to excite the students and show them that art and science share many values, themes and characteristics," writes Hugh Jones, head of science and physics at the school, in the programme booklet.
"Unseen Dimensions is a collaborative process grounded in the idea that imagination and creativity are at the heart of learning and innovation," writes Alison Gill, a part-time art teacher and sculptor who is curating an art exhibition at the school. 
The exhibit showcases work by six artists, including CMS collaboration member and founder of Arts @ CMS Michael Hoch, visual artist Heather Barnett, sculptors Annie Cattrell and Bill Woodrow, and mixed-media artist Melanie Jackson. Gill's artwork will also be exhibited at CERN this December.
One artwork on display is a 8 x 3 metre print of the Large Hadron Collider's CMS detector mounted on the school's wall overlooking the London skyline. Its position on the banks of the river Thames – by the Millennium Bridge linking Tate Modern and St Paul's Cathedral – ensured that Londoners and tourists alike got a grand view of the detector. "It was breathtaking for me," says Hoch. "I am very proud to present CMS and my artwork from such an historic view at the river Thames in London." 
Catch the Unseen Dimensions exhibition at the City of London School until 29 November or follow Unseen Dimensions on Tumblr.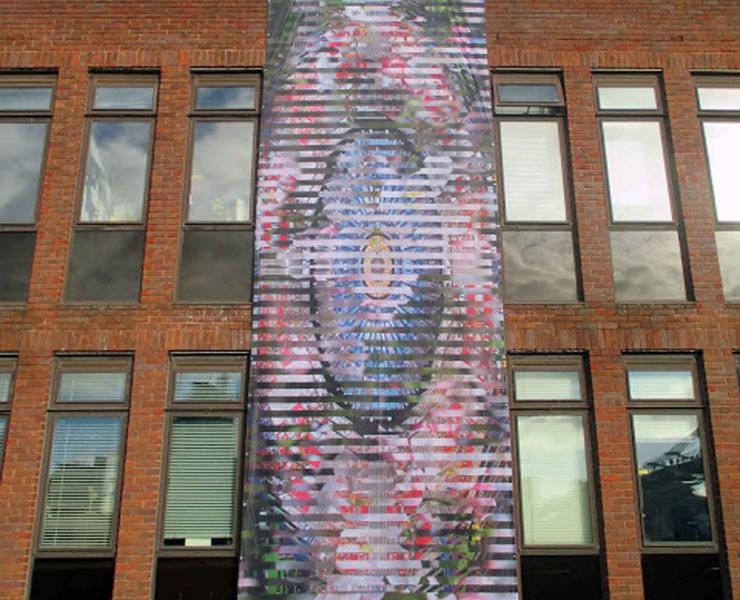 A CMS banner adorns the facade of the City of London school (Image: Michael Hoch)