This weekend CERN hosted its third Summer Student Webfest, a three-day caffeine-fuelled coding event at which participants worked in small teams to build innovative projects using open-source web technologies.
There were a host of projects to inspire the public to learn about CERN and particle physics, and others to encourage people to explore web-based solutions to humanitarian disasters with CERN's partner UNOSAT.
The event opened with a session of three-minute pitches: participants with project ideas tried to recruit team members with particular skills, from software development and design expertise to acumen in physics. Projects crystallised, merged or floundered as 14 pitches resulted in the formation of eight teams. Coffee was brewed and the hacking commenced…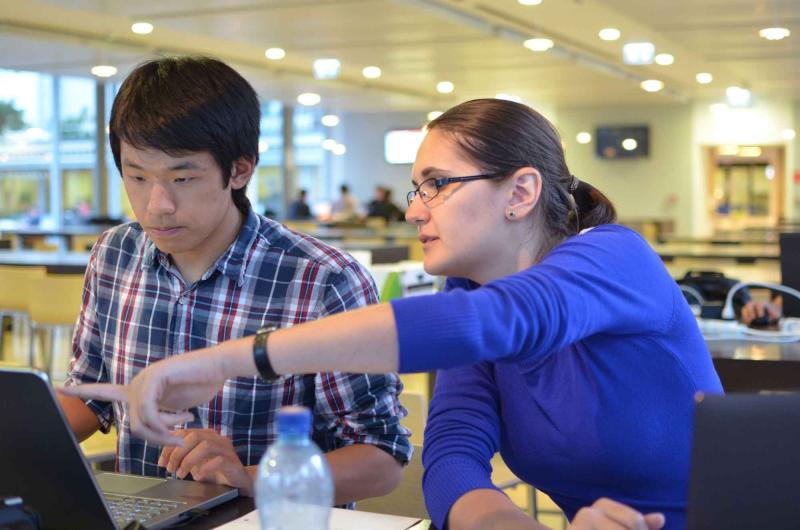 The weekend was interspersed with mentor-led workshops introducing participants to web technologies. CERN's James Devine detailed how Arduino products can be used to build cosmic-ray detectors or monitor LHC operation, while developers from PyBossa provided an introduction to building crowdsourced citizen science projects on crowdcrafting.org. (See a full list of workshops).
After three days of hard work and two largely sleepless nights, the eight teams were faced with the daunting task of presenting their projects to a panel of experts, with a trip to the Mozilla Festival in London up for grabs for one member of the overall winning team. The teams presented a remarkable range of applications built from scratch in under 48 hours. Prizes were awarded as follows:
Best Innovative Project: Terrain Elevation
A mobile phone application that accurately measures elevation. Designed as an economical method of choosing sites with a low risk of flooding for refugee camps.
Best Technology Project: Blindstore
A private query database with real potential for improving online privacy.
Find out more here
Best Design Project: GeotagX and PyBossa
An easy-to-use crowdsourcing platform for NGOs to use in responding to humanitarian disasters.
Best Educational Project: Run Bro-ton Run
An educational 3D game that uses Kinect technology.
Find out more here
Overall Winning Project: Particle Clicker
Particle Clicker is an elegantly designed detector-simulation game for web.
"It's been an amazing weekend where we've seen many impressive projects from different branches of technology," says Kevin Dungs, captain of this year's winning team. "I'm really looking forward to next year's Webfest."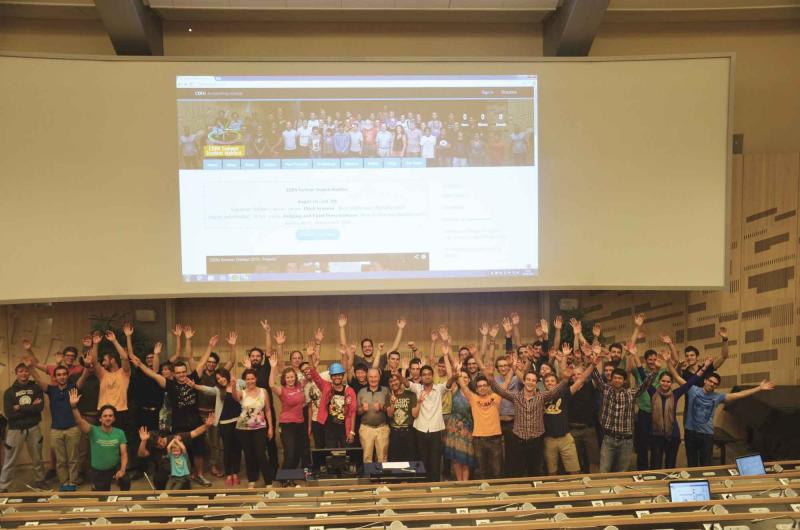 The CERN Summer Student Webfest was organised by François Grey, Ben Segal and SP Mohanty, and sponsored by the Citizen Cyberlab, Citizen Cyberscience Centre, Mozilla Foundation and The Port. Event mentors were from CERN, PyBossa and UNITAR/UNOSTAT. The judges were Antonella del Rosso (CERN Communications), Bilge Demirkoz (CERN Researcher) and Fons Rademakers (CTO of CERN Openlab).