A series of ATLAS Virtual Visits this week have been inspiring university students in Algeria. The visits are part of a scientific programme initiated by the Physics without Frontiers project, which is co-funded by the International Centre for Theoretical Physics (ICTP) and the Regione Friuli Venezia Guilia in Italy.
The project visits universities in places that have no experimental facilities for high-energy physics, to give undergraduate to PhD-level physics students a one-day masterclass on the subject. The spotlight is on ATLAS and the Large Hadron Collider.
"We went to Palestine last year and this year our focus is on Algeria," says ICTP postdoctoral fellow Kate Shaw, who organized the visits in collaboration with Rachik Soualah of the University of Udine in Italy and Amine Ahriche of University of Jijel in Algeria.
"As a team we give a series of lectures in the morning, followed by a hands-on session where the students analyse real LHC data using the ATLAS event-display program HYPATIA," says Shaw. "We then have a live virtual visit where physicist Claire Lee gives a tour of the ATLAS control room. The students can ask anything - from 'What is the Higgs boson?' to 'What is life at CERN like?'"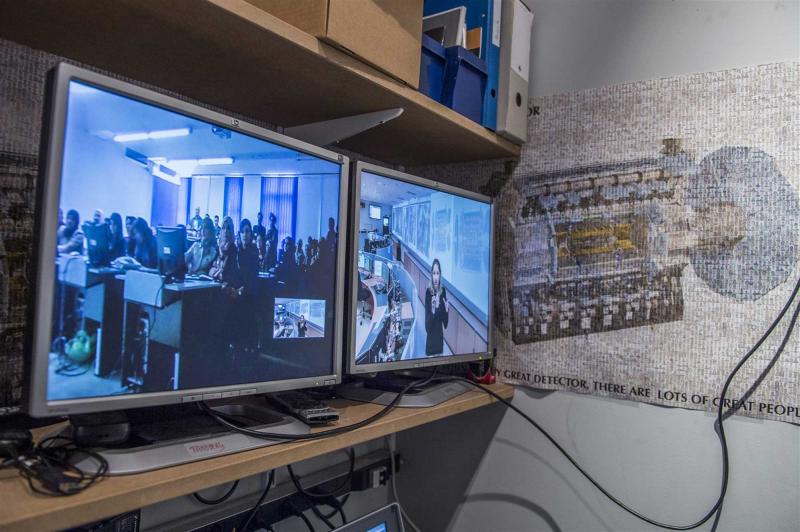 Video-conferencing equipment connects students at the University of Sciences and Technology of Oran Mohamed Boudiaf (USTO-MB) with the ATLAS control room (Image: Anna Pantelia/CERN)
The team has visited three universities in Algeria this year - Constantine-1 University, Universite de M'sila, and The University of Sciences and Technology of Oran Mohamed Boudiaf (USTO-MB) in collaboration with the University of Oran ES-Senia.
"Virtual visits are an excellent way to give students who have little or no exposure to experimental physics direct interaction with ATLAS physicists," says Shaw. "The visits demonstrate how physicists can collaborate even when they are hundreds or thousands of miles apart." 
Find out more on the ATLAS virtual visits website.