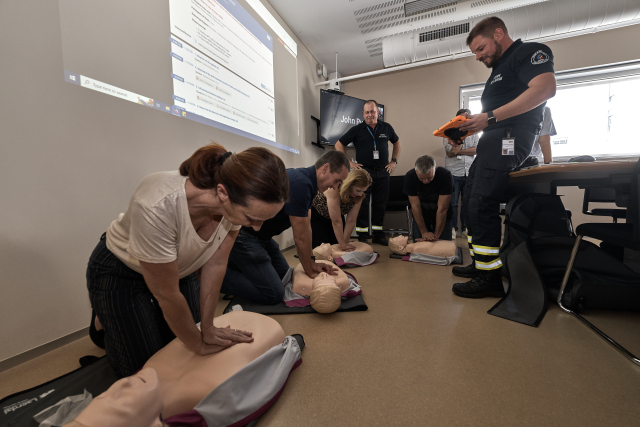 On a sunny afternoon in Building 42, members of the CERN Enlarged Directorate gathered to attend a special tailored session on life-saving actions. Led by the CERN Fire and Rescue Service and personnel from the Medical Service, they learned basic first aid techniques to apply in emergency situations, focusing on cardiac arrest, reanimation (CPR) and how to use a defibrillator.
The CERN community also had the opportunity to see demonstrations of life-saving actions as part of the rich programme on offer during the Cardiovascular Health Awareness campaign, which was held from 26 to 28 September, ahead of World Heart Day on 29 September.
The First Aid – Life-Saving Actions course is part of a comprehensive first aid training scheme and is a cornerstone of the Organization's medical emergency response strategy. As part of its Organization-wide safety objectives, CERN aims to have 40% of its personnel trained in life-saving actions by Long Shutdown 3. The three-hour course, open to everyone on site, covers the most commonly encountered and most critical emergencies, teaching participants how to raise the alarm and summon life support in the most efficient way.
Don't hesitate: register now to equip yourself with the basic knowledge, know-how and techniques that could save lives. In an emergency, every second counts.
---
In the event of an emergency or incident, call +41 22 76 74444 (Tel. 74444)
To locate defibrillators on the CERN site, download the CERN Campus App: you can find them under "Emergencies and Contacts"