​In June, the mobility working group launched a survey to understand CERN people's habits and needs concerning mobility. Here are the results.
4,300 members of the personnel, of whom 48% were staff members and fellows, completed the questionnaire. Thank you! Almost 70% of those who took part live in France, which corresponds to the proportion of members of the personnel registered as resident in France. Most of you work on the Meyrin site (80%). Entrance B is used by 39% of you, and Entrance E by 33%. 
How do you commute to CERN?
On average, you travel 14 kilometres to get to CERN, but the commute is less than 10 kilometres for 66% of you.

Those who cycle to CERN make up 13% of the respondents and 4% arrive on foot. This is encouraging as it is a higher percentage than usually observed in cities. Slightly less than 60% of you are single car occupants.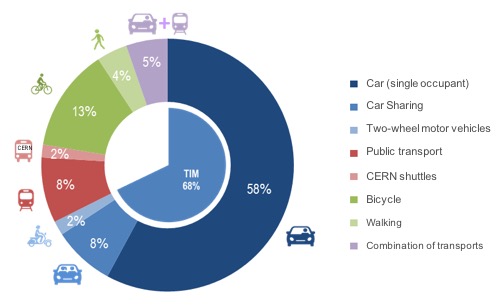 Those who use their cars the most are staff members living in France. The reasons cited for single-occupancy car use were the need for flexibility or the lack of alternative modes of transport.
Are you ready to use other means of transport?
Yes, and this is very encouraging. More than 10% of those who travel alone by car indicated that they were ready to use a more environmentally friendly mode of transport (bike, public transport or car sharing). More than 40% said that they would change their travel habits under certain conditions: for car sharing, some said that they would like to be able to return home in the event of an emergency, for example, while for cycling, the conditions cited included improved safety on the journey and alternatives in winter. Public transport would be more widely used if it were more accessible. Cyclists (who make up 13% of those who completed the survey) also mentioned that improvements to roads beyond the CERN site would make their journeys easier.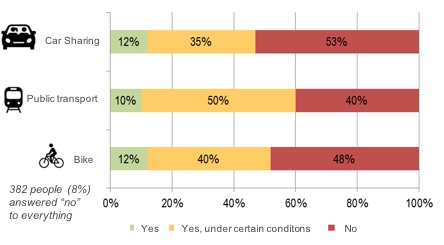 What modes of transport do you use for professional travel?
Some 44% of you said that you travel for professional reasons at least once per week and a large number of these journeys are on the Meyrin site. More than 80% of you use a car for these journeys and 47% use your own vehicle for flexibility. You said that you would like to see an improvement in pedestrian paths. Additionally, CERN's fleet of vehicles (rental cars and car sharing) is under-used, the reasons cited being complex procedures and collection points being too far away.
41% of the respondents said that they use the shuttle buses at least once a month, but only 21% among the staff members. A desire for more frequent shuttle buses with extended operating hours emerged from the survey.
What are the mobility initiatives at CERN?
This survey will allow the SMB department to offer improvements and new solutions to you in the coming months. For example, plans with a view to improving access to the site and the shuttle bus service and optimising the use of the vehicle and bicycle fleets are under consideration. Another important initiative concerns alternatives to private vehicles: proposals designed to facilitate car sharing and make it easier to walk or cycle to work are being drawn up. These proposals will be the subject of another survey, which will be submitted to you before the end of the year. Watch this space!
 
You can see the results of the survey here (in French).
See also the Word from Martin Steinacher, Director for Finance and Human Resources.